Interested in carrying my line of wholesale seasonings? I offer my full bottled line to qualified accounts and also bulk by the pound for grocery and herb stores. If you are retailer, winery, or restaurateur, email me using the form below. You may also contact me at (503) 952-6948, leave a message and I will get back to you as soon as possible.
Contact Us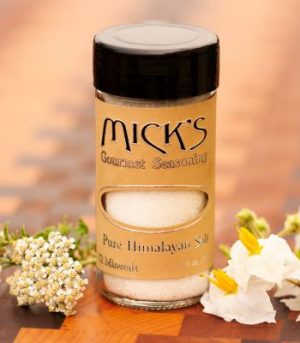 Pure Himalayan Salt

Mick's Gourmet Pure Himalayan Salt is a gourmet salt of the highest quality. Use it in all your favorite recipes and as your new table salt!
My Pure Himalayan Salt was 250 million years in the making. Deposited over 250 million years ago, this ancient sea salt is crystallized, and by using just the purest white vein it is hand mined, unrefined, and provides up to 72 essential minerals and natural trace elements, including iodine. Healthy and naturally low in sodium, I am a believer that it is the best flavor enhancing salt on the planet. As a chef for over 40 years, this is the exact salt that I have been using exclusively in all my cooking for the past 20 years. Once I tasted it I literally threw away all the others.
Pure Himalayan Salt.
4.65 oz. (132g)
Compare to your current table salt and discover why:
Once you taste the difference …. you'll stick with Mick's!
$

4.50
Add to cart