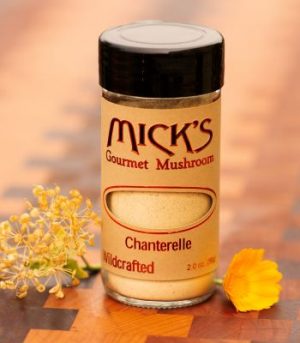 Chanterelle Mushroom Seasoning

Each bottle of Chanterelle Seasoning starts with nearly a half pound of fresh Oregon Chanterelle mushrooms. The Chanterelles are dried to capture their buttery apricot fragrance and blended with my Pure Himalayan Salt. Mick's Gourmet Chanterelle Seasoning is a low-sodium gourmet blend of the highest quality. Excellent on halibut, salmon, scallops, cream sauces, eggs, rice, tofu, chicken, pasta, sauces and as an instant soup base…enjoy the delicate nutty, apricot flavor! Sprinkle on buttered popcorn with fresh parmesan for a gourmet treat!
Wildcrafted Chanterelle Mushrooms, Pure Himalayan Salt.
2.0 oz. (56.g)

not rated
$

14.95
Add to cart